The Inspired Authorized King James Bible!
"For the word of God is quick, and powerful, and sharper than any twoedged sword, piercing even to the dividing asunder
of soul and spirit, and of the joints and marrow, and is a discerner of the thoughts and intents of the heart." —Hebrews 4:12
If you don't have a King James Bible,
you don't have a Holy Bible!
THE BATTLE OF THE AGES
(awesome King James Bible only sermon by Dr. Jack Hyles)

* * * * * * *
The Word of God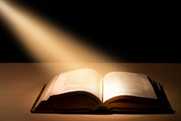 "...for thou hast magnified thy word above all thy name." —Psalm 138:2