Modern Bible Versions Corrupt 'Simplicity That Is In Christ'
by David J. Stewart | December 2019
2nd Corinthians 11:3, "But I fear, lest by any means, as the serpent beguiled Eve through his subtilty, so your minds should be corrupted from the simplicity that is in Christ."

The modern Bible translations are of the Devil! Like the courageous prophet Elijah—a small handful of faithful 'King James Bible only,' leather-lung, barnstormin', window-rattlin', shingle-pullin', hellfire and damnation, truth-telling, preachers—have been warning new-evangelicals for the past century about the Devil's corruptible seed; but as the 450 arrogant prophets of Baal, they aren't listening either! So be it, the blood of millions of deceived churchgoers are on their hands!!! I speak of Bob Jones University, Moody Bible Institute, and other apostate institutions today, who promote, sell and sanction corruptible seed. ...

"As long as I've got breath to breathe, I'll not dip my sails. Let me tell you something—This battle we have tonight is a battle between the new-evangelical crowd and fundamentalist crowd. What it is!" —Pastor Jack Hyles, a quote from the excellent MP3 sermon titled, "Nebuchadnezzar, God's Servant"

Our beloved Authorized King James Bible refers to "THE GOSPEL" in 2nd Corinthians 11:3b as: "THE SIMPLICITY THAT IS IN CHRIST." It is "simple" to get saved! Romans 1:16, "For I am not ashamed of the gospel of Christ: for it is the power of God unto salvation to every one that believeth; to the Jew first, and also to the Greek." Anyone who comes to Christ as an admitted guilty sinner, receiving Christ's sacrificial DEATH on the cross as full-payment for their sins, believing that He was BURIED and RAISED UP from the dead three days later, is SAVED!!! That is "THE GOSPEL," which means, "THE GOOD NEWS"!!!

Now that you know the correct interpretation of "THE SIMPLICITY THAT IS IN CHRIST," now let me show you the Devil's handiwork. I have quoted the accurate King James Bible first, for reference, so you can compare...

KING JAMES BIBLE (KJB) - 2nd Corinthians 11:3, "But I fear, lest by any means, as the serpent beguiled Eve through his subtilty, so your minds should be corrupted from the simplicity that is in Christ."

EASY-TO-READ VERSION (ERV) - 2nd Corinthians 11:3, "But I am afraid that your minds will be led away from your true and pure following of Christ. This could happen just as Eve was tricked by that snake with his clever lies."

NEW INTERNATIONAL VERSION (NIV) - 2nd Corinthians 11:3, "But I am afraid that just as Eve was deceived by the serpent's cunning, your minds may somehow be led astray from your sincere and pure devotion to Christ."

ENGLISH STANDARD VERSION (ESV) - 2nd Corinthians 11:3, "But I am afraid that as the serpent deceived Eve by his cunning, your thoughts will be led astray from a sincere and pure devotion to Christ."

HOLMAN CHRISTIAN STANDARD VERSION (HCSB) - 2nd Corinthians 11:3, "But I fear that, as the serpent deceived Eve by his cunning, your minds may be seduced from a complete and pure devotion to Christ."

CHRISTIAN STANDARD BIBLE (CSB) - 2nd Corinthians 11:3, "But I fear that, as the serpent deceived Eve by his cunning, your minds may be seduced from a sincere and pure devotion to Christ."

AMPLIFIED VERSION (AMP) - 2nd Corinthians 11:3, "But I am afraid that, even as the serpent beguiled Eve by his cunning, your minds may be corrupted and led away from the simplicity of [your sincere and] pure devotion to Christ."

NEW AMERICAN STANDARD BIBLE (NASB) - 2nd Corinthians 11:3, "But I am afraid that, as the serpent deceived Eve by his craftiness, your minds will be led astray from the simplicity and purity of devotion to Christ."

THE VOICE (VOICE) - 2nd Corinthians 11:3, "But now I'm afraid that as that serpent tricked Eve with his wiles, so your hearts and minds will be tricked and you will stray from the single-minded love and pure devotion to Him."
Shall I go on, quoting a hundred more PERversions? All of the modern Bible translations are CORRUPT!!! What does "devotion" to Christ have to do with believing the simple Gospel to be saved? That's right, NOTHING! You don't get saved by being DEVOTED to Christ! You don't get saved by FOLLOWING Jesus. Judas followed Jesus, yet he went to Hell in his sins!!! Neither does a person get saved by being SINCERE. The road to Hell is paved with good intentions, so sincerity can be a dangerous thing! What saith the Scripture? Proverbs 14:12, "There is a way which seemeth right unto a man, but the end thereof are the ways of death." Sincerity can be a very dangerous and misleading thing, because you could be SINCERELY WRONG! The Lord commanded us to: "SEARCH THE SCRIPTURES" (John 5:39b); but if you have a corrupted Bible version (like the ones I just quoted to you), then you cannot obey Christ to SEARCH THE SCRIPTURES!!! There is a way that only "SEEMETH RIGHT" unto a man, but the end of that path might lead to destruction. Oh friend, please don't let the Devil deceive you! You can trust the inspired King James Bible!!!

I am reminded of a very devoted religious group in the New Testament, to whom Christ said: "I never knew you: depart from me, ye that work iniquity"! ...

Matthew 7:21-23, "Not every one that saith unto me, Lord, Lord, shall enter into the kingdom of heaven; but he that doeth the will of my Father which is in heaven. Many will say to me in that day, Lord, Lord, have we not prophesied in thy name? and in thy name have cast out devils? and in thy name done many wonderful works? And then will I profess unto them, I never knew you: depart from me, ye that work iniquity."

And please notice that they were 100% SINCERE!!! There was perhaps not a more sincere and purely devoted group of people in history, than this group in Matthew 7:21-23. They served Christ on earth with all their might, talents and abilities, doing it all in Jesus' name; but Jesus will say to them in eternity—I NEVER KNEW YOU, YE THAT WORK INIQUITY!!! Do you see how Satan has "blinded the minds of them which believe not, lest the light of the glorious gospel of Christ, who is the image of God, should shine unto them" (2nd Corinthians 11:4b)? By changing this passage of Scripture, to mean sincerity and devotion instead of THE GOSPEL, the Devil can successfully lead the reader's MIND away from THE TRUTH of the Gospel of free grace. These counterfeit modern Bible versions, which have crept into millions of churches worldwide, are the main reason why the Gospel is no longer faithfully preached!!! HAVE YOU BELIEVED A LIE?

People by human nature are very easy to deceive! Mark Twain (1835-1910) said: "It's easier to fool people than to convince them that they have been fooled." What a profound truthful statement! The fact that Christians all across America keep voting for ungodly Republican reprobates for U.S. President proves my point! It matters not whether Democrats or Republicans are in office—the country's problems continue to worsen! Democrats and Republicans are merely two two separate legs both walking in the direction of a New World Order. We are a two-party dictatorship in the United States! I recently listened to a great speech given by former mayor, governor and Vietnam veteran, Jesse Ventura, in which he makes some remarkable comments. I agree with nearly everything Jesse says, who is a true American patriot!!! ...
"If you tell the TRUTH, you don't have to have a GOOD MEMORY!"
—a great quote from former mayor, governor and Vietnam veteran, Jesse Ventura.
Satan's greatest weapon is to con people into living the Christian life without ever being born-again! That's what Mormons, Jehovah's Witnesses, Seventh-Day Adventists and unsaved Baptists who adhere to Calvinism are doing. The aforementioned religious denominations teach manmade doctrines instead of doing the Father's will, which according to John 6:40 is to BELIEVE on the name of Jesus Christ! John 6:40, "And this is the will of him that sent me, that every one which seeth the Son, and believeth on him, may have everlasting life: and I will raise him up at the last day." I love something that Billy Sunday (1862-1935) said:

"Lord save us from off-handed, flabby-cheeked, brittle-boned, weak-kneed, thin-skinned, pliable, plastic, spineless, effeminate, ossified, three-karat Christianity." —Evangelist Billy Sunday

May I say kindly, that SINCERITY and DEVOTION are both self-righteous WORKS!!! Humbly, you had better listen to me dear reader, because your soul hangs in the balance. These damned modern Bible versions will take you straight to Hell, and the sellouts at Bob Jones University, and their alumni scattered around the world, will LEAD YOU INTO HELL WITH THEIR DEMONIC BIBLE VERSIONS!!! I will preach the truth until I'm in Heaven with the blessed Savior, Who came into this darkened world to shine the light of THE TRUTH! John 18:37, "Pilate therefore said unto him, Art thou a king then? Jesus answered, Thou sayest that I am a king. To this end was I born, and for this cause came I into the world, that I should bear witness unto the truth. Every one that is of the truth heareth my voice."

Truth is important! You can be the most sincere and devoted person in the world to Jesus Christ, and yet split Hell wide open when you breathe your last gasp for air. You will die web visitor, and so will I, it is just a matter of time. Contrary to The Rolling Stone's 1963 hit rock song: "TIME IS ON MY SIDE," time is truly in fact, NOT ON YOUR SIDE if you know not Christ as your personal Savior! If you are a born-again child of God (as I gratefully am), then ETERNITY IS ON YOUR SIDE! How cool is that? But if you have never been born-again by faith alone in THE GOSPEL, then time is working against you dear friend, because if you died this moment, you would find yourself in an eternal burning Hell, suffering pain in torments, where "the smoke of their torment ascendeth up for ever and ever: and they have no rest day nor night" (Revelation 14:11b). Now is the time of salvation, please don't delay, I plead with you.

Salvation is not doing your best, it is having Christ's best put to your account through receiving Him by faith. God will not save anyone who is trying to be saved, He will only save those who are trusting to be saved. Religion is man trying to reach God through human effort, but Christianity is God trying to reach man by the sacrifice of His only begotten Son on the cross. I marvel how gullible the churches have become, going along and adopting whatever is trending in mainstream apostate evangelicalism. The ungodly LGBT garbage has absolutely infected churches today! Sadly, that includes Baptist churches! The modern Bible versions sinfully remove the derogatory word "SODOMITES" (which God chose), changing it to "MALE SHRINE PROSTITUTES" (cf., 1st Kings 14:24, New International Version). How many "male shrine prostitutes" have you met? Yeah, me neither! But queers are everywhere today, and God's judgment is upon them (Romans 1:24-32; Colossians 3:5-6; Leviticus 20:13)!!!

Singing dancer Kanye West has become an overnight sensation in the religious world, tossing the precious name of Jesus around like a dog-toy; but Kanye only promotes a superficial form of godliness, and not the power of 'THE GOSPEL.' 2nd Timothy 3:5, "Having a form of godliness, but denying the power thereof: from such turn away." As I showed your earlier, that "POWER" is THE GOSPEL. Romans 1:16, "For I am not ashamed of the gospel of Christ: for it is the power of God unto salvation to every one that believeth; to the Jew first, and also to the Greek." You obtain forgiveness of sins and eternal life by BELIEVING (relying upon) THE GOSPEL.
1st Corinthians 1:18, "For the preaching of the cross is to them that perish foolishness; but unto us which are saved it is the power of God."

The Simple Gospel That Saves

I want to keep this very simple, for we are speaking about "THE SIMPLICITY THAT IS IN CHRIST." What exactly is the Gospel? The word "Gospel" means "Good News" or "Glad Tidings." There is no need to guess what the "Gospel" is because the Bible plainly tells us. The "Gospel" is the Good News of Christ's DEATH on the cross for our sins, His BURIAL and bodily RESURRECTION three days later:

1st Corinthians 15:1-4, "Moreover, brethren, I declare unto you the gospel which I preached unto you, which also ye have received, and wherein ye stand; By which also ye are saved, if ye keep in memory what I preached unto you, unless ye have believed in vain. For I delivered unto you first of all that which I also received, how that Christ died for our sins according to the scriptures; And that he was buried, and that he rose again the third day according to the scriptures."

There you have it, the Gospel is comprised of three things: Christ's DEATH on the cross, BURIAL, and His physical RESURRECTION the third day! Simply BELIEVE that 'GOOD NEWS' dear reader, and the work is done! A work? Yes, this is the only "work" which you can do to be saved. John 6:28-29, "Then said they unto him, What shall we do, that we might work the works of God? Jesus answered and said unto them, This is the work of God, that ye believe on him whom he hath sent." I love that! The only righteous work that you or I can do to be saved, is to simply BELIEVE on the name of the Lord Jesus Christ...

"Faith is the only righteous thing that I can do!" —Pastor Jack Hyles, a quote from the MP3 sermon titled: "God's Reversal Of Psalm 51"

We are saved by BELIEVING "the Gospel," which is the power of God unto salvation. Romans 1:16, "For I am not ashamed of the gospel of Christ: for it is the power of God unto salvation to every one that believeth; to the Jew first, and also to the Greek." John 6:28-29, "Then said they unto him, What shall we do, that we might work the works of God? Jesus answered and said unto them, This is the work of God, that ye believe on him whom he hath sent." It is that simple to be saved. If you admit that you are a guilty sinner in God's sight, and you receive Christ's sacrifice on the cross as full payment for your sins, believing that He was buried, and bodily resurrected three days later, and that is your only hope for eternal life, then YOU ARE IMMEDIATELY, SECURELY AND FOREVER SAVED!!!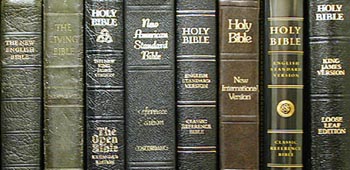 "I'd rather be a prostitute, or one who sells prostitutes, at the Judgment of Christ, than to be a professor who shakes the faith of young people." —Dr. Jack Hyles (a quote from the sermon titled, "It Seemeth Right")
In sharp contrast, here are Dr. Ravi Zacharias' 12 REQUIREMENTS to salvation, none of which include the Gospel. And here are Dr. John MacArthur's 7 REQUIREMENTS to salvation, none of which include the Gospel. Ladies and gentleman, Satan has full-blown taken over the churches today, and we have a duty as born-again believers to "earnestly contend for the faith which was once delivered unto the saints" (Jude 1:3b). The $64,000 question is: Do you care? The Bob Jones University (BJU) camp don't care, that's for sure! I know they don't care because BJU sells corruptible seed. I know they don't care because the biggest independent Baptist church on Guam (full of BJU alumni) sells corruptible seed. I know they don't care because when I placed THE TRUTH (a book titled: "NIV: THE ANTICHRIST'S BIBLE" by Pastor Al Lacy) directly into the pastor's hands, and the assistant pastor's hands, they called me and Dr. Jack Hyles "a cult." They intentionally rejected THE TRUTH (Hosea 4:6). They are no better than the ungodly Pharisees, who fully rejected THE TRUTH, choosing rather to follow their own manmade ideas. Mark 7:9, "And he said unto them, Full well ye reject the commandment of God, that ye may keep your own tradition." I may die without a wife, but I won't die being a coward like the Bob Jones crowd! I will PREACH in love until my last dying breath!!!

Moody Bible Institute, Bob Jones University, Pensacola Christian College, Hyles-Anderson College, Crown Bible College—ALL COWARDS, NEUTRAL IN THE WORK OF GOD (these institutions ALL deny the inspiration of the King James Bible, and they are all A.W.O.L. form THE BATTLE OF THE AGES over God's Word. All they care about is making more MONEY. It makes any born-again, God-fearing, truth-teller, sick!!!)...

"God has a special rebuke, again and again and again in the Bible, toward those people who keep their neutrality in the work of God!" —SOURCE: Dr. Jack Hyles, a quote from the great MP3 sermon, "Where Were You In The Battle?"

Getting souls saved important, but if we don't "strengthen the things which remain, that are ready to die:" (Revelation 3:2b), there won't be any soulwinning in the future, because the aforementioned institutions will all be teaching an accursed Lordship Salvation (which the modern Bible versions teach). It is of the absolute utmost important that Bible-believing Christians denounce, expose and extricate these Satanic modern versions from all of our churches.

Do you know, a wonderful thing happened in 2017. The long-time Communist, Bible-banning, Cuban government finally permitted God's Word into their country. But get this, they told Biblica to take their free shipment of 17,000 NIV's to Cuba, to take their crap and GO TO HELL!!! Boy, I love that! Way to go Cuban government!!! Somebody did their homework. I hope they read my ministry website!!! Yeah buddy! To Hell with Biblica and their accursed New International Version (NIV)!!! To Hell with Bob Jones University and their English Standard PERversion (ESV). I say that lovingly, with a broken heart over the INDIFFERENCE among professed Christians today toward heresy, corruptible seed, and Satan creeping multiple false gospels into the churches! Psalm 119:104, "Through thy precepts I get understanding: therefore I hate every false way."

Kindly, I don't care how big your church is, or how pleasing you may think you are to the Lord, you are an ENEMY of God if you promote the corruptible revisions of the Bible!!!!!!! THE BATTLE OF THE AGES (an awesome King James Bible only MP3 sermon by Pastor Jack Hyles).

I have kindly shown you dear reader, EIGHT corrupt modern Bible versions, which corrupt "THE SIMPLICITY THAT IS IN CHRIST" in 2nd Corinthians 11:3, instead to read "YOUR SINCERE AND PURE DEVOTION TO CHRIST"! What gross theological incompetence!! Satan is a beautiful liar!!! No amount of SINCERITY nor DEVOTION can save a person. Jesus exclaimed in John 3:7b, "YE MUST BE BORN AGAIN"! That is what God said, not me. The "simplicity that is in Christ" is none other than THE GOSPEL of free grace. We are saved by God's imputed righteousness, and not by personal faithfulness to Christ, lordship nor devotion. Some of the sincerest people are burning in Hell for all eternity, because they died in their sins, trusting something other than "the righteousness which is of God by faith:" (Philippians 3:9b). We are saved by "HIS RIGHTEOUSNESS." Matthew 6:33, "But seek ye first the kingdom of God, and his righteousness; and all these things shall be added unto you." What saith the Scripture? Genesis 15:6, "And he [Abram] believed in the LORD; and he counted it to him for righteousness."

I love you dear reader whoever you may be, with God's unconditional love, and I want to meet you in Heaven someday. If you will simply admit that you are a guilty sinner in God's sight, and BELIEVE (rely upon) 'THE GOSPEL' (which is 'THE GOOD NEWS' that Jesus Christ died upon the cross to pay for your sins, He was buried, and then He bodily resurrected three days later from the dead), then you have received God's gift of forgiveness of sins, and you now have eternal life, and we will gladly meet in that great Heavenly city with 12 solid gates of pearl!!! What a great Savior!!!!!!!

Psalms 12:6, "The words of the LORD are pure words: as silver tried in a furnace of earth, purified seven times."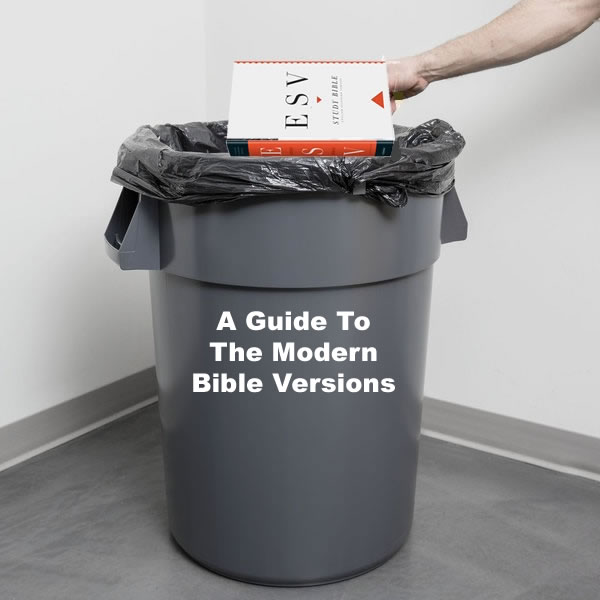 "Beware of false knowledge; it is more dangerous than ignorance."
—George Bernard Shaw (1856-1950)
BATTLE OF THE AGES (Dr. Hyles, "The King James Bible crowd is going to come out on top!")

THE REAL BATTLE (MP3 by Dr. Hyles, "