For God Hath Not Given Us The Spirit Of Fear
By David J. Stewart | December 2013
2nd Timothy 1:7, "For God hath not given us the spirit of fear;
but of power, and of love, and of a sound mind."
The word "fear" can be thought of by the acronym...

False

Evidence

Appearing

Real

Oftentimes people foolishly make hasty decisions based upon the "what ifs" (worry over the future). Instead, we are taught in the Word of God to always trust upon the Lord. We may not know what the future holds, but we know Who holds the future! Amen!

Fear is often "false evidence" because it is a false perception of reality. If we lose sight of the Scriptures, our worries can build in intensity quickly until we have created a whole fictitious scenario that doesn't exist. Nine times out of ten our fears, worries and concerns never happen; they never pan out. It is in our nature to worry, but living in fear is no way to live. We ought to trust the Lord, especially when everything seems to be going wrong. When everything seems wrong, "LET GO, LET GOD!" We must trust God by praying and looking for answers in the Bible (Psalms 1:1-4). To pray is faith, and to keep praying when it seems that God is not answering requires greater faith (Luke 18:1). Many people believed on the Lord in the Bible, but they had little faith.

When Lazarus died, no one believed that Jesus could raise up Lazarus from the dead, but He did. Likewise, many Christians have faith in the Lord today, but not when it comes to raising their chaotic, destroyed and wayward life from the dead. A lot of Christians go see a psychologist because they don't believe that God is big enough to solve their personal and relationship problems. One truth that every believer needs to grasp is that GOD NEVER CHANGES (Malachi 3:6). Jesus NEVER changes (Hebrews 13:8). Man continually changes. Each generation in the United States is becoming more and more wicked. Homosexuality is becoming increasingly mainstream in America, bringing God's judgment upon our nation. But it's not just homosexuality, it's all sins. Despite the shocking legalization of homosexual marriages these days, the gruesome sin of abortion has been legalized nationally since 1972. To the exact same extent that Americans are embracing sin, to that same degree a police state is rising up around us. Homosexuality didn't just happen in America; but rather, it is the advanced stages of a sexually degenerate culture that has abandoned the God of the Bible.


Unlike Mankind's Fearful Nature, God Never Fears

Zephaniah 1:12, "And it shall come to pass at that time, that I will search Jerusalem with candles, and punish the men that are settled on their lees: that say in their heart, The LORD will not do good, neither will he do evil." Like today, people during Zephaniah's time were saying that it doesn't matter what men do, because God doesn't do anything either way. They were convinced that God wouldn't do anything, neither good nor evil. This type of utter apostasy is returning as we approach the end times. In Matthew 24:37-39 Jesus foretold that the end times would return as it was in the times of Noah. And so it is today!

Illinois just became the 16th state in November of 2013 to legalize same-sex marriage. Where will this total and blatant disregard for God's moral laws lead?

Psalms 9:17-20, The wicked shall be turned into hell, and all the nations that forget God. For the needy shall not alway be forgotten: the expectation of the poor shall not perish for ever. Arise, O LORD; let not man prevail: let the heathen be judged in thy sight. Put them in fear, O LORD: that the nations may know themselves to be but men. Selah."

The reason why the homosexual community is virtually silent is because they fully know they are gaining the victory in the United States. The abortion industry is here to stay! Perverted magazines are here to stay! The evils of feminist rebellion and sinful divorce are here to stay! Immoral TV programming is here to stay! Our U.S. nation has stopped obeying then Ten Commandments. Of all God's commandments, only stealing and murdering are against the law in America.

Consequently, Gods hand of blessing has departed from America. Why should God bless our selfishness, our stubborn pride and our perversion of what it means to do right? People these days are sinfully saying that abortion, lewdness, nudity, fornication, feminist rebellion, Rock music, alcoholism, divorce, casino gambling, greed, covetousness, shady advertising, tattoos, witchcraft, psychics and false religion are acceptable to God. None of these sinful things are acceptable with the Lord Jesus Christ.

It may seem like God doesn't care, but He is still on His throne watching over the affairs of mankind. God does care, more than we could ever know! It is humanity that has forgotten God. It was the U.S. Supreme Court that banned the Word of God from America's classrooms in 1963. No one, no one, has a right to blame God for the atrocious criminal acts of our youth today, when the truth be known that we have totally prohibited God and Biblical morality in their curriculum. No one can point a finger at anything and call it "evil" without having some moral standard by which to compare it.
2nd Timothy 1:7, "For God hath not given us the spirit of fear;
but of power, and of love, and of a sound mind."
It is normal for everyone to experience feelings of fear at times. In 2nd Timothy 1:7 the Bible is not talking about becoming afraid if you see something frightening. The Bible is speaking about a spirit of fear that dominates a person's life, to the extent that they allow fear to rule over their lives and control their decisions. Fear and depression are closely related. 2nd Timothy 1:7, "For God hath not given us the spirit of fear; but of power, and of love, and of a sound mind." Proverbs 29:25, "The fear of man bringeth a snare: but whoso putteth his trust in the LORD shall be safe." Notice that Proverbs 29:25 shows the irreconcilable difference between FAITH and FEAR. Many people fear losing their job, because their bills wouldn't get paid. I've seen co-workers cry over worry about losing their job.


Faith And Worry Work Against Each Other

Literally, faith and worry are exact opposites. Consider the following awesome, precious and helpful Scriptures that I keep in mind when I start to have fear about the future...

Philippians 4:6-7, "Be careful for nothing; but in every thing by prayer and supplication with thanksgiving let your requests be made known unto God. And the peace of God, which passeth all understanding, shall keep your hearts and minds through Christ Jesus." Once we place our "requests" into God's care by prayer, we are taught in the Bible to claim the "peace of God." Notice that our "hearts and minds" are kept through Jesus Christ.

1st Peter 5:6-8, "Humble yourselves therefore under the mighty hand of God, that he may exalt you in due time. Casting all your care upon him; for he careth for you. Be sober, be vigilant; because your adversary the devil, as a roaring lion, walketh about, seeking whom he may devour." I used to quote verse 7 without including verses 6 and 8. They MUST be included to render an accurate translation. It is not reasonable to expect God to help us if we are not humble enough to pray and obey Him. Being humble starts with prayer. It shows our need for God. If we don't pray we are saying, "God I don't need your help, I can do it alone by myself." Also, the Devil seeks to devour us, and there is no better way to do that than to get us to worry about everything. If we cast (hurl or throw) our cares (concerns and burdens) upon the Lord, then we are humbling ourselves by coming to Him for help, and this is the best way to prevent Satan from devouring us.

Luke 18:1, "And he spake a parable unto them to this end, that men ought always to pray, and not to faint." Prayer is the key to making it through each day without having a nervous breakdown, quitting or committing suicide. A doctor will only send you to a psychologist, and a psychologist will only send you to a psychiatrist, and a psychiatrist will only put you on drugs. Prayer works, one way or another, prayer works! I've learned to pray regardless of the outcome. Faith is like film, it develops in the dark! Most people pray and quit (faint) if things don't happen the way they want, in the time they want, in the place they want. I've learned that God nearly always works in unseen ways to test our faith. This truth is evidenced throughout the Scriptures.

Fear always works against faith, and faith overrides fear. Remember, fear is false evidence appearing real. When Abraham entered into Egypt, he feared that Pharaoh would kill him to steal his beautiful wife, Sarah. The Bible teaches that the biographies of Old Testament saints were written for our LEARNING. Romans 15:4, "For whatsoever things were written aforetime were written for our learning, that we through patience and comfort of the scriptures might have hope." Don't miss that!!! God has shared the biographies of Biblical saints with us so that we may through patience and comfort have HOPE. You don't find much hope in the heathen world these days. The Greek word for "hope" is elpis, meaning "(to anticipate, usually with pleasure); expectation (abstract or concrete) or confidence."

In hindsight we have the benefit of seeing how all the hardships, difficulties and seemingly impossible situations all worked out for good .to the glory of God in eternity. Thank God for the blessed testimony of the saints throughout the Scripture.


Abraham: From Faith To Fear, Falsehood, Frustration & Eventually Failure

I've learn from the life of Abraham that his fears caused him to lie. God was with Abraham, and there was no need for him to fear. In Genesis 12:1-3 the Lord made a promise to bless Abraham throughout his life. But Abraham acted upon false evidence appearing real (fear) and lied, saying that Sarah was only his sister.

Pastor Charles Spurgeon once said, "Don't be afraid to be shipwrecked on the island of God's sovereignty." From identifying with the biographies of saints in the Bible, we grow spiritually. Some of the benefits of biographies:

They stabilize us when we go through similar events

They transfer truth into life

They give us a closer kinship with fathers in the faith

They help us maintain a divine perspective

From the life of Abraham we learn that fear leads to falsehood, which leads to frustration and eventually, failure. Our God is so big, so strong and so mighty, there's nothing our God cannot do! We learn from the Scriptures that God shakes up peoples lives. A faith must be tested. If God tested the faith of His children in the Bible, then you can be assured that He will test our faith too. Faith often means believing without comprehending and obeying without understanding. God is developing sinning saints! God has given to us, His children, the Holy Spirit, Who teaches us power, love and a sound mind through the Word of God.

We learn from the life of Old Testament saints:

Tests will come when you least expect it.

Tests will come when God is silent.

Tests will build our faith.

Abraham began on the path of faith (Genesis 12:1-10); but then he stayed down a path of fear (Genesis 12:11-12). This led in verses 13-14 to falsehood (Abraham lying about Sarah because he was afraid of losing her and being murdered). In Genesis 12:15 we find Abraham frustrated. And ultimately in verse 16 he ended up failing. Abraham departed from the path of faith when he began to go down a path of fear. This ought to teach us today the spiritual dangers of following a path of fear (false evidence appearing real). When everything was all said and done, Abraham once again followed the path of dependence upon God, which is faith.

Before Peter began to sink in the Sea of Galilee while walking on water (Matthew 14:30), he first made the mistake of removing his eyes from the Lord. We start to doubt God and go down a path of fear only after we have taken our eyes off the Lord Jesus Christ in the Scriptures. A faith must be tested! Every Christian's faith will be tested. The Jews were tested in the Wilderness. God led them from one form of bondage in Egypt into another in the Wilderness. The desert was scorching hot and the brutal conditions were unforgiving (draught, no food, no water, scorpions, intense sandy winds, et cetera).

Man Shall Not Live By Bread Alone

It was faith that gave Abraham his righteousness, that is, God's righteousness which is by faith in Jesus Christ. If you are a child of God and have His Holy Spirit living inside of you, then there's is nothing to fear but fear itself. 1st John 4:4, "Ye are of God, little children, and have overcome them: because greater is he that is in you, than he that is in the world."
Starting Over ("We all have to start over once and a while!")
—quote from the sermon, STARTING OVER by Pastor Danny Castle!!!
"Too many people let the failures of yesterday and the fears of tomorrow rob them of the joy of serving God today!"
—quote from the sermon, STARTING OVER by Pastor Danny Castle!!!
"The way to be where you ought to be tomorrow is to do what you ought to do today!" —quote from the sermon, STARTING OVER by Pastor Danny Castle!!!
Soulwinning.info | Recent Articles | Divided By Truth
---

Revelation 14:11, "And the smoke of their torment ascendeth up for ever and ever: and they have no rest day nor night, who worship the beast and his image, and whosoever receiveth the mark of his name."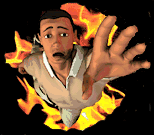 ACDC's Brian Johnson Wants a God Who'll Look After Him
"The mark of the child of God is that he loves everybody!"
(a quote from Pastor Jack Hyles' classic MP3 sermon, "FORGIVENESS")
---
Ye Must Be Born Again!
|
You Need HIS Righteousness!
|
Believe The Gospel