It Will Be Too Late Once You Get To Hell
by David J. Stewart | November 2019
Luke 16:19, "There was a certain rich man, which was clothed in purple and fine linen, and fared sumptuously every day: And there was a certain beggar named Lazarus, which was laid at his gate, full of sores, And desiring to be fed with the crumbs which fell from the rich man's table: moreover the dogs came and licked his sores. And it came to pass, that the beggar died, and was carried by the angels into Abraham's bosom: the rich man also died, and was buried; And in hell he lift up his eyes, being in torments, and seeth Abraham afar off, and Lazarus in his bosom. And he cried and said, Father Abraham, have mercy on me, and send Lazarus, that he may dip the tip of his finger in water, and cool my tongue; for I am tormented in this flame. But Abraham said, Son, remember that thou in thy lifetime receivedst thy good things, and likewise Lazarus evil things: but now he is comforted, and thou art tormented. And beside all this, between us and you there is a great gulf fixed: so that they which would pass from hence to you cannot; neither can they pass to us, that would come from thence. Then he said, I pray thee therefore, father, that thou wouldest send him to my father's house: For I have five brethren; that he may testify unto them, lest they also come into this place of torment. Abraham saith unto him, They have Moses and the prophets; let them hear them. And he said, Nay, father Abraham: but if one went unto them from the dead, they will repent. And he said unto him, If they hear not Moses and the prophets, neither will they be persuaded, though one rose from the dead."

There is not a more frightening passage of Holy Scripture than Luke 16:19-32. I plead with you to read and reread these eternal inspired words from the King James Bible, and ponder them in your soul dear reader. Reading about the rich man reminded me of Apple founder Steve Jobs (an unsaved Buddhist), who had a net worth of $10,200,000,000 when he died. 1st Timothy 6:7, "For we brought nothing into this world, and it is certain we can carry nothing out." What a Scripture! Luke 18:25, "For it is easier for a camel to go through a needle's eye, than for a rich man to enter into the kingdom of God." Oh how the love of money and riches hinder men from being saved. You see, people with money in this world don't think they need God, because they already have security here on earth, which blinds them from the future. We all have an appointment with death. Hebrews 9:27-28, "And as it is appointed unto men once to die, but after this the judgment: So Christ was once offered to bear the sins of many; and unto them that look for him shall he appear the second time without sin unto salvation."

Read our text passage, and you will see that it was TOO LATE for the rich man after he died. Carefully notice that the man is NO LONGER rich! I don't care how much money, boats, cars, mansions and possessions you may acquire during this lifetime, you will enter into eternity with absolutely nothing! Luke 12:15, "And he said unto them, Take heed, and beware of covetousness: for a man's life consisteth not in the abundance of the things which he possesseth." Material possessions and money blind people from spiritual reality. A rich person may live in comfort until the day they die, but THEN THE JUDGMENT! Luke 12:5, "But I will forewarn you whom ye shall fear: Fear him, which after he hath killed hath power to cast into hell; yea, I say unto you, Fear him." I thank God that I am a born-again Christian!!! I thank God! I thank God! I thank God!!!

Dear friend, if your name is written in Heaven, I dare say you and I are among 2% of the world's population! Hell is filled with religious people! Matthew 7:21-23, "Not every one that saith unto me, Lord, Lord, shall enter into the kingdom of heaven; but he that doeth the will of my Father which is in heaven. Many will say to me in that day, Lord, Lord, have we not prophesied in thy name? and in thy name have cast out devils? and in thy name done many wonderful works? And then will I profess unto them, I never knew you: depart from me, ye that work iniquity." What is the will of the Father? I am so glad you asked my fine non-feathered friend. John 6:40, "And this is the will of him that sent me, that every one which seeth the Son, and believeth on him, may have everlasting life: and I will raise him up at the last day." Oh, how simple is THE TRUTH! Please look my friend and read the inspired Word of God for yourself. For what saith the Scripture? Again, John 6:40b—THAT EVERY ONE WHICH SEETH THE SON, AND BELIEVETH ON HIM, MAY HAVE EVERLASTING LIFE! John 5:39, "Search the scriptures; for in them ye think ye have eternal life: and they are they which testify of me." Do you believe? Have you been born-again? Have you received Jesus Christ as your personal Savior?

The rich man went to sleep, as he had done normally several thousand times during his earthly life. If a person lives to the average age of 70 (threescore and ten), that is 25,550 days (365 times 70). Albeit, there is no guarantee of tomorrow for anyone. Proverbs 27:1, "Boast not thyself of to morrow; for thou knowest not what a day may bring forth." The rich man had lived a life of plenty, sparing no expense to pleasure himself, granting his every heart's request with pampered delight. But this night was different from all the other nights before, because the foolish rich man's soul was required of him by God, and HE DIED! In Hell "HE LIFT UP HIS EYES, BEING IN TORMENTS." Please see the disturbing contrast—from earthly riches and pleasures to Hell's fire and torments! The world is filled with rich people today, who have no need for God. I truly feel sorry for them, because they will spend eternity in the Lake of Fire. Revelation 20:15, "And whosoever was not found written in the book of life was cast into the lake of fire." ...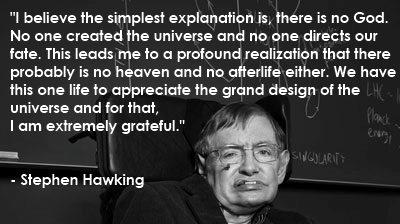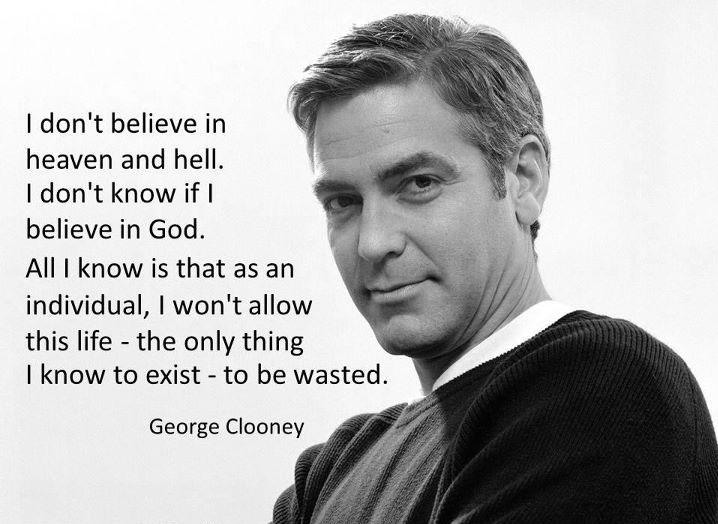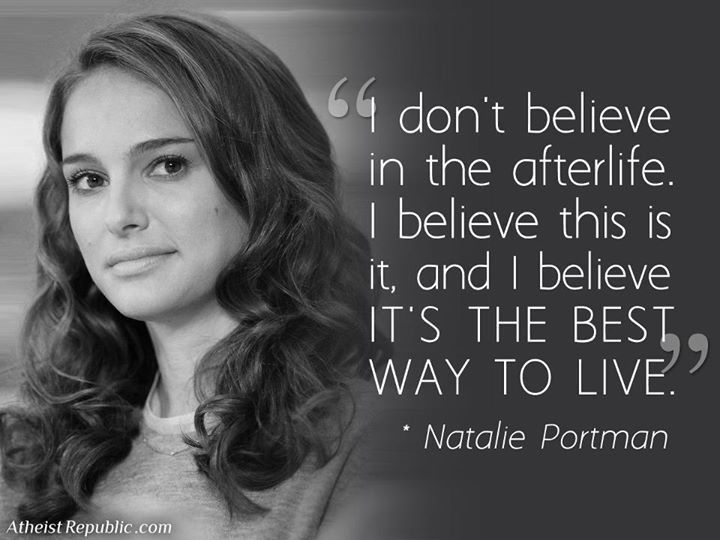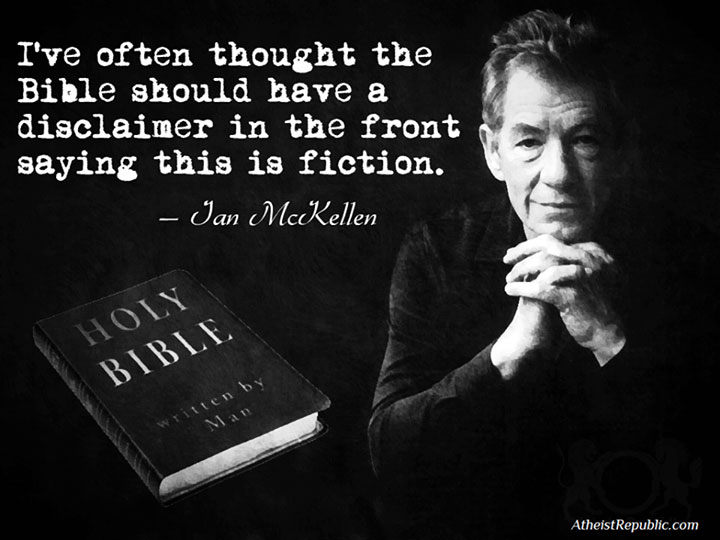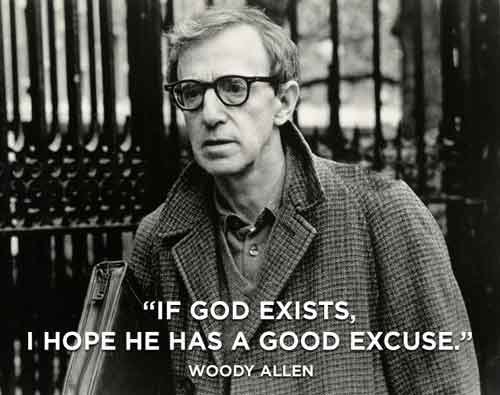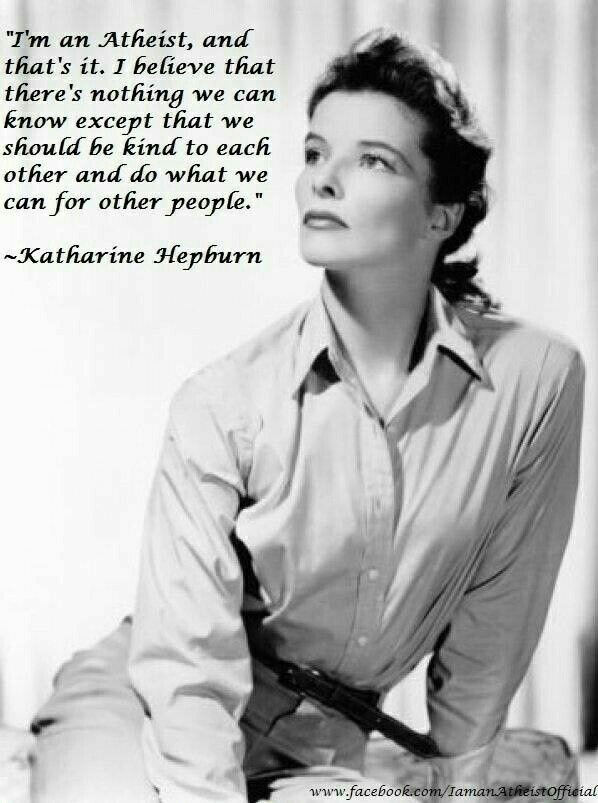 1st Corinthians 1:18, "For the preaching of the cross is to them that
perish foolishness; but unto us which are saved it is the power of God."
I could show you thousands more quotes from atheist celebrities. Psalm 14:1, "The fool hath said in his heart, There is no God. They are corrupt, they have done abominable works, there is none that doeth good." Statistically, 85% of all Christians get saved by age 18. Once you've reached the age of 70, there is only a 4% chance of getting saved. Mark 10:15, "Verily I say unto you, Whosoever shall not receive the kingdom of God as a little child, he shall not enter therein." The Bible is not saying that only children can be saved; but rather, an adult must abandon their pride, preconceived ideas, and justification of sin, humbling them self as a small child, so that they will come to the light (truth) of the Gospel to be saved. Ironically, Dr. John MacArthur says (and I quote verbatim): "There is no such thing as a childhood conversion." Oh, how wrong Mr. MacArthur is! The Bible teaches the exact oppossite.

Two of the aforementioned atheists are already burning in the fires of Hell: Stephen hawking and Katharine Hepburn. Theoretical physicist Stephen Hawking (1942-2018) said he was thankful for his one life to appreciate the grand design of the universe. Yet, he rejected the Holy Bible and the Son of God. 1st Corinthians 3:19, "For the wisdom of this world is foolishness with God. For it is written, He taketh the wise in their own craftiness." The wisdom of man is foolishness with God. The following Bible verse is amazing! 1st Corinthians 1:21, "For after that in the wisdom of God the world by wisdom knew not God, it pleased God by the foolishness of preaching to save them that believe." God is pleased "TO SAVE THEM THAT BELIEVE," by the preaching of the glorious 'GOSPEL' ('GOOD NEWS') that the ungodly world thinks is so foolish! The world is FOOLISH!!! I am so glad to be God's redeemed child! Oh, it is wonderful to be a Christian!!! Truly, it takes more faith to be an atheist than a believer!

ATHEIST QUOTES:

"By simple common sense I don't believe in God, in none." —Hollywood actor Charlie Chaplin

"I gradually, decided that just because I didn't have or couldn't find the ultimate answer didn't mean I was going to buy the religious fairytale. As an atheist you have to rationalize things." —singer Billy Joel

"I have NEVER seen the slightest scientific proof of the religious theories of Heaven and Hell, of future life for individuals, or of a personal God." —inventor Thomas Edison

"My belief system is that when this is over, you don't look down from Heaven and wait for your loved ones to join you... your molecules continue and in due time become something else." —Hollywood actor William Shatner

Hollywood actor George Clooney (in the preceding photo and quote above) says he won't allow his one life to be wasted, because he is agnostic and doesn't know if God really exists, so why risk wasting his life living for God? What a foolish and wicked attitude! Psalm 36:1, "The transgression of the wicked saith within my heart, that there is no fear of God before his eyes." George Clooney is purported to have a massive financial net worth of $500,000,000! What saith the Scripture? Matthew 16:26, "For what is a man profited, if he shall gain the whole world, and lose his own soul? or what shall a man give in exchange for his soul?" I wouldn't want to be in George Clooney's shoes when he stands before God in eternity for anything! Hebrews 10:31, "It is a fearful thing to fall into the hands of the living God." I don't know about you, but I very much want to be on good terms with my Creator and eternal Judge!

That is why God sent His only begotten Son, Jesus Christ, into the world to pay for our sins. God wanted to redeem mankind back to Himself. Jesus paid a debt He did not owe, because we owed a debt we could not pay. It is a matter of faith. John 1:12-13, "But as many as received him, to them gave he power to become the sons of God, even to them that believe on his name: Which were born, not of blood, nor of the will of the flesh, nor of the will of man, but of God." God is so good to humanity! Let rich people sinfully put God on trial if they want to, but I am going to humble myself as a little child and trust God, for He is worthy! Psalm 18:3, "I will call upon the LORD, who is worthy to be praised: so shall I be saved from mine enemies."


The Story of The Rich Man and Lazarus in Luke 16 is Not Fiction

I once had a Mormon boss 30 years ago, who said that the story of the rich man and Lazarus in Luke 16:19-31 was just a fictitious parable. He handed me a piece of paper at work one day. On the paper he had written down the Old Testament Hebrew word Sheol. He said that if I looked up the word, I would find that it merely means "the grave." You see, Mormons don't believe in a burning Hell where all Christ-rejecters will spend eternity suffering in torments. So like other religious cults, they wrestle the Holy Scriptures to tell us what man says about God, instead of what God says about man!

Yes, the word Sheol does refer to "the grave" (or the realm of the dead); however, it doesn't limit the meaning to just dying. Sheol is simply a term that means when someone dies they go to where the dead go. This in no way implies that there is no afterlife. We know that the righteous and the wicked do NOT go to the same place in the afterlife, from reading Psalms 9:17, "The wicked shall be turned into hell, and all the nations that forget God." Now, if the righteous and the wicked both go to the same place, as my former Mormon boss was deceitfully trying to convince me, then Psalm 9:17 makes no sense at all! What point would there be in God saying that THE WICKED SHALL BE TURNED INTO HELL, if hell (Sheol) only meant the grave? Do not the righteous also go to that same grave? Clearly, Psalm 9:17 is teaching that the wicked go to a place of suffering and punishment, but the righteous unto life eternal. This helpful passage of Scripture plainly suggests that the wicked and the righteous do NOT go to the same place in the afterlife.

When I happily attended Harvest Baptist Church for a year in 2014, a young man named "Christian" taught a Wednesday night Bible study. Harvest did something interesting for a short time, that I have never seen before. They divided the congregation into several different groups on Wednesday night, and you could pick what classes you wanted to attend, in different buildings. So I chose to remain in the main auditorium with Christian. I was saddened when he told everyone that he thinks the story of the rich man and Lazarus is only a parable. Really? What saith the Scripture? ...

We can conclude that Luke 16:19-31 is a real, literal, actual, event that happened, because of a few reasons:

First, Jesus used proper names: Lazarus and Abraham.

Second, the Lord never called this "a parable" (as he often did elsewhere).

Third, whenever the Lord told a parable, He afterward explained its meaning, but He didn't do that here.

Fourth, if Hell were not a literal place of punishment in flames and torments, then the Lord is a deceiver and a liar. We know from other passages of Scripture that Jesus suffered no fools, and told THE TRUTH. Jesus said what He meant, and He meant what He said! John 14:2, "In my Father's house are many mansions: if it were not so, I would have told you. I go to prepare a place for you." So if Jesus tells a story, but does not call it a parable, we have no right to call it a parable!

Life is short, Hell is hot, and eternity is a long time! I beg you dear reader not to take a chance with your eternal body and soul. God will not send you to Hell, He will simply honor your decision to go there yourself. If you don't go to Heaven (by faith alone in Jesus Christ), then the only other place you can go is Hell! Please notice that the rich man in Luke 16:19-31 was desperately trying to find comfort in his torment. He wanted to escape the fires of Hell, but it was TOO LATE for him! He had made his decision in life while on earth. Like the foolish rich man, billions of people in the world today aren't listening to Moses and the prophets (i.e., the inspired Words of God almighty). They are full of sinful pride, love for sin, and are enemies of the cross of Christ. ...

Ephesians 4:17-19, "This I say therefore, and testify in the Lord, that ye henceforth walk not as other Gentiles walk, in the vanity of their mind, Having the understanding darkened, being alienated from the life of God through the ignorance that is in them, because of the blindness of their heart: Who being past feeling have given themselves over unto lasciviousness, to work all uncleanness with greediness."

Is your heart also blinded? As I read the quotes by celebrity atheists, who all have arrogant looks on their faces, my heart breaks for them. They have no idea what is going to happen to them, blinded in their heart by worldly fame and fortune. Everywhere that celebrities go here on earth, they are praised and idolized by the public, but the second they die they will plunge downward into the depths of Hell.

There are hundreds of millions of people burning in Hell today, if not billions, who are begging for God to send a supernatural message to their loved ones, to warn them about Hell. It is a call from beneath! What saith the Scripture? ...

Luke 16:27-31, "Then he said, I pray thee therefore, father, that thou wouldest send him to my father's house: For I have five brethren; that he may testify unto them, lest they also come into this place of torment. Abraham saith unto him, They have Moses and the prophets; let them hear them. And he said, Nay, father Abraham: but if one went unto them from the dead, they will repent. And he said unto him, If they hear not Moses and the prophets, neither will they be persuaded, though one rose from the dead."

God says that if a person won't listen to the Holy Scriptures, then NOTHING will convince them! That is why I very often quote Romans 4:3a, "FOR WHAT SAITH THE SCRIPTURE?" My opinion doesn't matter, God's opinion matters! I choose to be as narrow-minded as the Scriptures. The more that I hear the Holy Bible read, the more it is solidified in my soul and I believe it! Romans 10:17, "So then faith cometh by hearing, and hearing by the word of God." Please don't wait dear friend until your death bed to get saved, because you may not get that chance. Please don't end up in the torments of Hell, before you wise up and come to your senses. Now is the time to be saved! The choice is yours alone to make. Please get saved before it is TOO LATE!
Romans 3:4, "God forbid: yea, let God be true, but every man a liar; as it is written,
That thou mightest be justified in thy sayings, and mightest overcome when thou art judged."
END OF ARTICLE
"Faith is the only righteous thing that I can do!"
—Pastor Jack Hyles, a quote from the MP3 sermon titled: "God's Reversal Of Psalms 51"
1st Corinthians 16:24, "My love be with you all in Christ Jesus. Amen."
---

BELIEVE "THE GOSPEL" 2B SAVED!

Confession Is Never A Requirement For Salvation

'The Gospel' In Just One Minute

(by Pastor Max D. Younce)

John 3:16, "For God so loved the world, that he gave his only begotten Son,
that whosoever believeth in him should not perish, but have everlasting life."

"Courage doesn't mean you don't get afraid. Courage means you don't let fear stop you." —Bethany Hamilton

"As a blind man has no idea of colors, so we have no idea of the manner by
which the all-wise God perceives and understands all things." —Isaac Newton (1642-1727)

Another Gospel Which Is Not Another (a red-hot MP3 by Dr. Curtis Hutson exposing Lordship Salvation)

"If you have to look at your life to prove that you are saved, it proves that you're not!"
—Pastor Ralph Yankee Arnold; an excellent quote from the awesome YouTube sermon titled, "Why Lordship Salvation is WRONG! | MP3."
---
Ye Must Be Born Again!
|
You Need HIS Righteousness!
|
Believe The Gospel