You Don't Have To Be GOOD To Go
To Heaven, You've Got To Be PERFECT!
by David J. Stewart | September 2018
Revelation 21:27, "And there shall in no wise enter into it any thing that defileth, neither
whatsoever worketh abomination, or maketh a lie: but they which are written in the Lamb's book of life."
A common misunderstanding is that a person must be "good" to get into Heaven, but the Holy Bible plainly teaches that a person must actually be "perfect" to enter into Heaven. You must be absolutely PERFECT, in every way, or else you cannot be permitted into the heavenly city. ...

1st Corinthians 6:9-11, "Know ye not that the unrighteous shall not inherit the kingdom of God? Be not deceived: neither fornicators, nor idolaters, nor adulterers, nor effeminate, nor abusers of themselves with mankind, Nor thieves, nor covetous, nor drunkards, nor revilers, nor extortioners, shall inherit the kingdom of God."

No sinner can inherit the Kingdom of God. All of your goodness is insufficient! Isaiah 64:6, "But we are all as an unclean thing, and all our righteousnesses are as filthy rags; and we all do fade as a leaf; and our iniquities, like the wind, have taken us away." Did you read that my friend? The Holy Bible declares that "ALL OF OUR RIGHTEOUSNESSES ARE AS FILTHY RAGS"!!! Filthy rags are worthless! When you attend church or do good deeds, because you believe they are necessary to be saved (or remain saved), it is "filth" to God.

1st Corinthians 6:9 and 11, "Know ye not that the unrighteous shall not inherit the kingdom of God? ... And such were some of you: but ye are washed, but ye are sanctified, but ye are justified in the name of the Lord Jesus, and by the Spirit of our God."

Salvation Army or Reformation Army

The Salvation Army horribly teaches that salvation is a state, instead of a new birth. The Salvation Army teaches the satanic LIE that salvation is a temporary state that can be forfeited by unfaithfulness. Read their statement of faith for yourself...

"We believe that continuance in a state of salvation depends upon continued obedient faith in Christ."

https://www.salvationarmy.org.nz/about-us/articles-of-faith

That is works! The Salvation Army's founders were heretical Calvinists! I'm not sorry to say that the Salvation Army, and it's founders General William and Catherine Booth, are not saved if they truly believe that they must do something to remain in a state of salvation. That is not the free grace Gospel! You cannot earn eternal life. Clearly, the Salvation Army believes that salvation CAN be lost, by not continuing in obedient faith. You cannot find any such nonsense in the Scriptures!

My friend, you do not become righteous by living a righteous life. Your soul needs to be washed! Only the precious blood of Jesus can do that! The only way to be declared righteous with God the Father, is through submitting by faith to the sacrifice of God's only begotten Son on the cross to pay for your sins. Salvation is not me meaning business, it is God meaning business! The Gospel must not be altered to pressure people to turn away from their sinful bad habits, otherwise it is a false Gospel. The true Gospel is solely by God's grace, easy and free and so simple that even a small child can be saved, simply by believing.
Christ died for me, the JUST for the UNJUST!!!
(2nd Corinthians 5:21, "For he hath made him to be sin for us, who knew no sin; that we might be made the righteousness of God in him.")
But Ye Are Washed

Nothing can be eternal if it's not perfect. Hebrews 5:9, "And being made perfect, he became the author of eternal salvation unto all them that obey him." God will save anybody who trusts the Good News of His only begotten Son, Jesus Christ.

Notice carefully that nearly everyone overlooks VERSE 11 when they read the frightening Scripture passage from 1st Corinthians 6:9-10...

1st Corinthians 6:9 and 11, "Know ye not that the unrighteous shall not inherit the kingdom of God? ... And such were some of you: but ye are washed, but ye are sanctified, but ye are justified in the name of the Lord Jesus, and by the Spirit of our God."

Oh what wonderful words... "BUT YE ARE WASHED"!!! Such were some of you! Yea buddy, we're all dirty, rotten, guilty, sinners. The only difference is that we sin differently than each other, but we ALL SIN!

Read what the blessed inspired Scriptures proclaim from the prophecy as given by the Lord Himself in Revelation...

Revelation 21:27, "And there shall in no wise enter into it any thing that defileth, neither whatsoever worketh abomination, or maketh a lie: but they which are written in the Lamb's book of life."

How do you get your name into the Lamb's Book of Life? If you have placed your trust (faith) solely in Christ's sacrificial DEATH on the cross for your sins, believing that He was BURIED, and physically RESURRECTED from the dead three days later (1st Corinthians 15:1-6), your name is in the precious Lamb's Book of Life!

You MUST be perfect to get into Heaven!!! Being good is not enough. Hell is filled with good sinners! If you are truly a saint, it is ONLY by God's righteousness and not your own! You and I have no righteousness to offer God. That is why He offers us HIS RIGHTEOUSNESS, which is through faith in Jesus Christ. Romans 10:3-4, "For they being ignorant of God's righteousness, and going about to establish their own righteousness, have not submitted themselves unto the righteousness of God. For Christ is the end of the law for righteousness to every one that believeth." Galatians 3:24-26 teaches that the LAW was a schoolmaster, to bring us to Christ so that we could be saved by God's GRACE. That sums up the whole Bible: LAW and GRACE! The LAW shows us our sinnership, and then brings us to GRACE to be saved through faith in the Gospel of the Lord Jesus Christ. What a beautiful God and Savior!!!!!!!

We trust Christ as our "Savior" to deliver us from the PENALTY of sin; We receive Christ as our "Lord" (after we are saved) to deliver us from the POWER of sin! "Savior" refers to what Jesus does: JESUS SAVES! "Lord" refers to who He is: JESUS IS LORD! It is heresy to tell someone that they must receive Jesus as "Savior and Lord" to be saved! If you tell somebody that they must receive Christ as their Lord, you are putting that person under the law to be saved. Romans 3:20, "Therefore by the deeds of the law there shall no flesh be justified in his sight: for by the law is the knowledge of sin." The purpose of God's LAW is to give people the knowledge that we are sinners. Romans 3:20b, "for by the law is the knowledge of sin."

You only need to receive (trust) Jesus as your SAVIOR to be saved. This is why we read in 1st Timothy 4:10, "For therefore we both labour and suffer reproach, because we trust in the living God, who is the Saviour of all men, specially of those that believe." Also, carefully notice that Jesus is the Savior of "ALL MEN," especially of them "that believe." This plainly refutes John Calvin's heresy of "Limited Atonement," which teaches that Christ only died for the elect (the saints). The inspired Word of God declares that Christ is the SAVIOR OF ALL MEN! If you go to Hell one day, it will only be because you foolishly CHOSE to go there!

When a man truly recognizes the fact that Jesus is the Savior, and trusts Him to be his Savior, then, and only then, does that man receive the benefits of Christ's saving power! The new birth is of God, and only God must do it! If man gives salvation, then it is of the flesh, and cannot produce the new birth. John 1:12-13, "But as many as received him, to them gave he power to become the sons of God, even to them that believe on his name: Which were born, not of blood, nor of the will of the flesh, nor of the will of man, but of God." If salvation is not free and forever, it is not the Gospel.

Salvation cannot be found in ANY religion, but in a person—The Lord Jesus Christ!

It's not our life that leads to eternal life, it is Jesus' life! To go to Heaven, you've got to be as righteous as God Himself! That is why we need God's imputed righteousness, where He takes His righteousness and puts it on us, by faith. We get to go to Heaven because of what Christ did to pay for our sins at Calvary on the cross. Our part is simply to believe the Gospel. No one is ever saved by "cheap grace," they are saved by priceless grace! Grace wasn't cheap, it was very expensive, God just made it free! What a precious Savior!!!!!!!


Beware of Counterfeit Churches

We are living in woeful times of doctrinal apostasy in the churches. Here is a news story about Pastor Tim Rogers in Arkansas, who denies the existence of Hell. Pastor Rogers refers to Hell as a "fairytale." Pastor Tim Rogers is a counterfeit Christian. No man is saved who denies the reality of a burning Hell. If there is no Hell, then there is no penalty for sin, and no need to receive Christ as one's Savior. The Scriptures have more to say about Hell than they do Heaven. Revelation 20:14-15, "And death and hell were cast into the lake of fire. This is the second death. And whosoever was not found written in the book of life was cast into the lake of fire."

You would be much better off not going to church, than to attend a counterfeit church!

Another foolish Baptist minister in Missouri, Pastor Mike Leake, preached a sermon recently called, "Why Can't We All Get Along?" Pastor Leake stated, "Let's just be honest and confess that our fruits are evidence that we hate one another." In his sermon he specifically mentions the ongoing centuries-long debate between Arminians and Calvinists. If you are a truly born-again Christian and are learned of the Holy Scriptures, then you understand that Calvinism (i.e., the doctrines of John Calvin) are of the Devil. Calvinism is NOT the Gospel, it is a works-based plan of salvation that conditions the new birth upon persevering in holy living. That is a false Gospel which requires manmade reformation as proof of God's free gift of grace.

Mike Leake is foolish to diminish the conflict caused over contending for the faith. There can be no harmony between Calvinists and Christians. And for that matter, I am neither Arminian nor a Calvinist. We ought to follow the inspired Word of God, and not any man, or group of people. Romans 3:4, "God forbid: yea, let God be true, but every man a liar; as it is written, That thou mightest be justified in thy sayings, and mightest overcome when thou art judged."


You Don't Have to Be GOOD to Get to Heaven, You've Got to Be PERFECT!

You come TO CHRIST for salvation; and then you follow AFTER CHRIST for service. Salvation is FREE; service brings a REWARD! When the Bible talks about salvation, God is talking about taking, not giving. When we get saved, we are TAKING His free gift of eternal life; but when we follow Christ as His disciple, we are GIVING Him our service, which will be REWARDED by God at the Judgment Seat of Christ (1st Corinthians 3:11-15; 2nd Corinthians 5:9-11).

My friend, you do not have to be GOOD to get into Heaven, you've got to be 100% PERFECT! You cannot do that, and neither can I. That is why we need a perfect sacrifice, and thankfully, Jesus is the sinless Lamb of God. John 1:29, "The next day John seeth Jesus coming unto him, and saith, Behold the Lamb of God, which taketh away the sin of the world." God accepted Jesus as the spotless sacrifice for the sins of humanity. Jesus became the sacrifice for our sins on the cross. He died as our sacrificial lamb, and He raised up as our heavenly intercessory High Priest (Hebrews 4:14-16).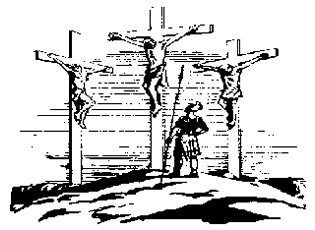 "There is power in this Gospel message. Most people just don't know how to
present it... The clarity of the Gospel is what makes it easy for them to believe."
—Pastor Yankee Arnold, a precious quote from the excellent MP3 sermon titled, "WHY GRACE CAN SAVE THE WORST MAN!"
"No one's ever saved by cheap grace, they're saved by priceless amazing grace! We have a miracle salvation provided and preserved by God Himself. Let's give out the Good News of this salvation, simply and faithfully for His glory. Salvation is not cheap. God sent His Son to pay for our sins. It wasn't cheap—very expensive—He just made it free. And when you and I try to add one work to it, we cheapen it! That's when you cheapen it, when you think that it wasn't enough, I've got to add something to it!"
—Pastor Yankee Arnold, a precious quote from the excellent MP3 sermon titled, "CAUGHT BETWEEN GRACE AND WORKS!" | VIDEO | MORE HELPFUL SERMONS
Caught Between Grace And Works!
(AWESOME TRUTH! By Pastor Ralph "Yankee" Arnold | MP3 - Please share with OTHERS!!!)
END OF ARTICLE
---
"The mark of the child of God is that he loves everybody!"
(a quote from Pastor Jack Hyles' classic MP3 sermon, "FORGIVENESS")
"truth passes through three stages" ...
First, it is ridiculed, second, it is violently opposed, third, it is accepted as self-evident."
—Arthur Schopenhauer, German Philosopher (1788-1860)
"Only the Word of God can make you a man of God!"
—a quote by Pastor Ralph "Yankee" Arnold from the awesome sermon, "The Sure Word of Prophecy."
The J. Frank Norris I Have Known (an insightful .PDF biography by Dr. Louis Entzminger)
Stokes' Apparent Danger Discredits J. Frank Norris And Fundamentalism (by Dr. Shelton Smith)
---
Ye Must Be Born Again!
|
You Need HIS Righteousness!
|
Believe The Gospel