DUMB ALL OVER
Whoever we are
Wherever we're from
We shoulda noticed by now
Our behavior is dumb
And if our chances
Expect to improve
It's gonna take a lot more
Than tryin' to remove
The other race
Or the other whatever
From the face
Of the planet altogether

They call it the earth
Which is a dumb kinda name
But they named it right
'cause we behave the same...
We are dumb all over
Dumb all over,
Yes we are
Dumb all over,
Near 'n far
Dumb all over,
Black 'n white
People, we is not wrapped tight

Nerds on the left
Nerds on the right
Religious fanatics
On the air every night
Sayin' the bible
Tells the story
Makes the details
Sound real gory
'bout what to do
If the geeks over there
Don't believe in the book
We got over here

You can't run a race
Without no feet
'n pretty soon
There won't be no street
For dummies to jog on
Or doggies to dog on
Religious fanatics
Can make it be all gone
(I mean it won't blow up
?n disappear
It'll just look ugly
For a thousand years...)

You can't run a country
By a book of religion
Not by a heap
Or a lump or a smidgeon
Of foolish rules
Of ancient date
Designed to make
You all feel great
While you fold, spindle
And mutilate
Those unbelievers
From a neighboring state

To arms! to arms!
Hooray! that's great
Two legs ain't bad
Unless there's a crate
They ship the parts
To mama in
For souvenirs: two ears (get down!)
Not his, not hers, (but what the hey? )
The good book says:
("it gotta be that way!")
But their book says:
"revenge the crusades...
With whips 'n chains
'n hand grenades..."
Two arms' two arms?
Have another and another
Our God says:
"there ain't no other!"
Our God says
"it's all okay!"
Our God says
"this is the way!"

It says in the book:
"burn 'n destroy...
?n repent, 'n redeem
?n revenge, 'n deploy
'n rumble thee forth
To the land of the unbelieving scum on the other side
'cause they don't go for what's in the book
'n that makes 'em bad
So verily we must choppeth them up
And stompeth them down
Or rent a nice French bomb
To poof them out of existence
While leaving their real estate just where we need it
To use again
For temples in which to praise our god
("cause he can really take care of business!")

And when his humble TV servant
With humble white hair
And humble glasses
And a nice brown suit
And maybe a blond wife who takes phone calls
Tells us our God says
It's okay to do this stuff
Then we gotta do it,
'cause if we don't do it,
We ain't gwine up to hebbin!
(depending on which book you're using at the
Time...can't use theirs... it don't work
...it's all lies...gotta use mine...)
Ain't that right?
That's what they say
Every night...
Every day...
Hey, we can't really be dumb
If we're just following God's orders
Hey, let's get serious...
God knows what He's doin'
He wrote this book here
An? the book says:
He made us all to be just like him,"
So...
If we're dumb...
Then God is dumb...
(an' maybe even a little ugly on the side)
CHURCH CHAT
(Somebody in the crowd yells in something in French... what is it?)

You know today the church is in a terrible state. The bucks just aren't rollin' in like they used to. And when the bucks don't come in, the church comes up with a new gimmick to make you spend to Heaven.

Now I know you don't know what I'm talking about, but what the f**k. But anyway, listen to this ladies and gentlemen, when the church wants to get your money they remind you about hell. (whoo-ho-ha-ha)

If you commit a sin you're gonna go to hell. (oui-oui)

Well let me give you an example, this boy over here; Tell em about it brother Zappa.

Sometimes people say: that if you f**k somebody (oh lord) it's a sin, (oui-oui) this may or may not be true.

(testify)

This boy not only f**ked somebody with his organ, but he also f**ked a girl with a guitar, with an umbrella, with a zucchini,
with a shoe, with an enema bag . . .

What else did you do? A vibrato bar. A vibrato bar!

Some people would say this is a sin. and if you sin you're gonna go to hell.

Well ladies and gentlemen: There ain't no hell. (oui)
There is no such thing as hell. (oui)
There is no hell, there is only France! (oui-oui)
(Oui, oui)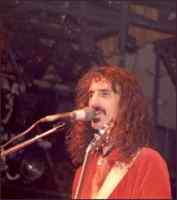 Frank Zappa made the following statement...
"If you want to get together in any exclusive situation and have people love you, fine - but to hang all this desperate sociology on the idea of The Cloud-Guy who has The Big Book, who knows if you've been bad or good - and CARES about any of it - to hang it all on that, folks, is the chimpanzee part of the brain working." [The Real Frank Zappa Book, ("Church and State" chapter) by Frank Zappa and Peter Occhiogrosso, p. 301]
---
"Love not the world, neither the things that are in the world. If any man love the world, the love of the Father is not in him. For all that is in the world, the lust of the flesh, and the lust of the eyes, and the pride of life, is not of the Father, but is of the world. And the world passeth away, and the lust thereof: but he that doeth the will of God abideth for ever." -1st John 2:15-17
---
The Rock 'n Roll industry is a culture of death, drugs, immoral sex, and rebellion against a Holy and Just God. Frank Zappa's music, statements, and lifestyle is evidence of that. It is clearly evident that Christ-rejecters such as Ozzy Osborne, David Bowie, Frank Zappa, and Marilyn Manson (and thousands more in the rock culture) are extremely biased AGAINST God, the Bible, and every Christian that speaks out against their works of darkness. Their lyrics reveal an underlying contempt and sinister hated for everything decent, holy and of God. The Word of God will prevail. When the dirt is tossed down upon the caskets of the wicked, it is too late. Once a person dies in their sins, their eternal destiny is sealed in doom. Oh friend, wouldn't you rather die in the Lord? You surely can. Salvation is a FREE GIFT from God, paid for by the precious blood of Jesus Christ. Please come to Jesus now for forgiveness.
---
John 10:10, "The thief cometh not, but for to steal, and to kill, and to destroy: I am come that they might have life, and that they might have it more abundantly."