A Shrewd Way the Devil Takes Over a Church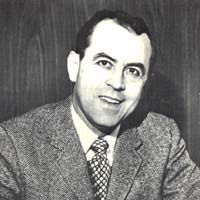 by Pastor Jack Hyles (1926-2001)
To every thing there is a season, a time to every purpose under the heaven: A time to be born, and a time to die; a time to plant, and a time to pluck up that which is planted; A time to kill, and a time to heal; a time to break down, and a time to build up; A time to weep, and a time to laugh; a time to mourn, and a time to dance; A time to cast away stones, and a time to gather stones together; a time to embrace, and a time to refrain from embracing; A time to get, and a time to lose; a time to keep, and a time to cast away; A time to rend and a time to sew; a time to keep silence, and a time to speak; A time to love, and a time to hate; a time of war, and a time of peace... Ecclesiastes 3:1-8
Every one of these things mentioned is neither good or bad. All of these things can be bad and all of these things can be good. In this is the secret to success and happiness in life.
If you want to build a great church, or if you want to have a happy life, do not do the same thing all the time, but do the same things all the time. You will never find a more important philosophical statement than that.
Monotony is both depressing and exhilarating. If you are monotonous in doing the same thing all the time, you will become depressed... If you are monotonous in doing the same things all the time, you will find it exhilarating.
Life is that way. You cannot live on a peak all the time. You must come down into the valley. The valleys are just as important as the peaks. A church needs to have services where the people shout and praise God. It also needs to have services where the people are still and know that He is God. Taking the Lord's Supper in quietness and sweetness is just as important as shouting and praising God.
I sometimes preach on Sunday mornings on comfort because people must be comforted... You cannot compare a sermon on comfort with a sermon on praise and rejoicing. You cannot compare either of those with a Bible study...
The same applies to Bible truth. This is how churches start teaching false doctrine. A pastor finds a truth in the Bible that the people have never heard. The people think that it was wonderful, so he has obligated himself to find a deeper truth the next time. Before long he is finding things in the Bible that are not there because he is trying to find something new and fresh all the time...
I will not build a church that way. I will build a church on the solid basics of the Bible. The same thing that builds families, builds churches. The basics... The way you stay healthy is by eating the basics.
There are churches that have to find something shocking as far as the truth is concerned. After a while they are spending all of their time trying to force types and truths that are not really there... If they do not continue to find new and more shocking truth, the feeling or effectiveness begins to wear off.
You cannot build a church, a life, a family, or a relationship on one thing all of the time. God is a God of variety. That is one thing wrong with rock music... Rock music is not a music of variety. It uses the same beat over and over again. Good music is a variety of music in one song. Churches are destroyed because they go down a good road, but only down that one road. They are destroyed by the continuous repetition of something that is good...
Some churches are destroyed by spectacular events. You cannot have a big day every Sunday and you cannot build on the spectacular.
A church should never get off onto any one thing. For example, we had 5,195 people saved on a Sunday. That is not going to happen every Sunday. There must be times when we study the Bible. Every Sunday cannot be a big Sunday.
The same thing is true in a family... There are times you should take the children for ice cream and times you must make them eat their spinach. There are times to go to the park and swing, and times to bend them over your knee and spank them. There must be a balance of good things.
Jesus told Timothy to preach the Word. Many people believe that is all we are ever supposed to do, but that is not all it says. It also says to rebuke, reprove, and exhort. There are four things mentioned, and preaching the Word is just one of them. God is saying that sometimes the pastor needs to teach the Bible verse by verse. Other times the pastor needs to exhort as to how to live. Sometimes the pastor is to preach the Devil out of us. That is what a church needs... Churches will self-destruct when they get wrapped up in only one thing...
I am a very happy man. I live by the same schedule every week. It is not monotonous. Doing one thing all the time is monotonous, but doing several things all the time is not monotonous. I do not have to go on vacation to be happy. I do not need a hobby for a diversion... The truth is I live on vacation all the time... Vacation is a change or a diversion.
The professional golfer golfs for a living, but plays tennis for vacation. The professional tennis player plays tennis for a living and plays golf for a vacation... My whole life is one diversion after another. That is why I am happy and can preach several times a day. I live a life of diversion... I do many things all the time, but not the same thing all of the time...
The Bible says there is a time to love and a time to hate. So we need to love a while and hate awhile... Billy Sunday said, "You cannot love flowers if you do not hate weeds..." A doctor cannot love health if he does not hate germs... There must be times when the pastor praises God for His wonderful love, but there must also be times when he preaches against the dirty liquor traffic; against the wickedness in Hollywood, etc..
All over the country there are people gathering in living rooms for cottage prayer meetings and Bible studies. They have no evangelism, they have no invitation, they are not getting anybody baptized, and they have no house-to-house soul winning, street preaching, or passing out of tracts... They just go deeper and deeper in the Word until they are teaching things that God does not even know... They are destroying a church by seeking truth...
There are churches that take all their time to be still and know that He is God...
There are preachers who get off into casting out demons, and the people begin to come to church expecting to see the spectacular. If the spectacular does not happen, they quit coming.
I know churches that are one issue-oriented. They will get on an issue and stay on it for six months or more at a time... Every sermon and Bible study is wrapped around that issue. That is why I seldom use spectacular sermon titles. Everything about the Bible is spectacular. I want to build in my people a desire for the basics of the Bible, not just the spectacular.
It is tragic when a church calls a man to be their pastor after hearing him preach only one Sunday, because they fail to discover if he is an issue oriented preacher. Before calling a pastor, the church should get the man's tapes and find out if his preaching over an extended period of time is balanced. Somebody asked me who I thought was the greatest preacher in America. I would have to hear him preach for a year before I could answer that.

Let me make three observations:
1. Come expecting something, but do not come expecting any one thing.
2. Do not make anything be in competition with itself.
I know people who get hooked on one food and just eat it all of the time. I know people who get hooked on one hobby and stay on that one hobby all of the time. There are too many things in life to enjoy... Sometimes you should go bowling, but sometimes you should just take a walk in the woods. Happy people are the diversified people. Live a varied life.
3. Do not go down just one road. Do not do the same thing, but do the same things.
Our preacher boys often go to a new church and for their first month there preach a series of sermons on women wearing pants. I do not mention women wearing pants all the time... I may go many months and never mention anything about women wearing pants.
My critics take one little phase of my ministry and talk about it as though that were the whole of it. Most of them have never set foot inside the buildings of First Baptist Church. If there is a church in the world that has a varied ministry, it is First Baptist Church of Hammond, Indiana. That is the way to keep a church healthy.
A college can get off onto a few doctrines. I believe the King James Bible was preserved word for word, but if I preached on that subject every week to the college students, I would destroy the college.
That is what the Devil does. The Devil comes to a church and gets the pastor and the people enraptured about one thing. My soul hungers for my church to be thrilled and excited when people get saved, but I also want them to be able to sit at the Lord's Supper table with sincere praise and worship to Almighty God... There is a time for both. There is a time to laugh, and a time to cry, a time to plant, and a time to reap, a time to love, and a time to hate.
Churches all over this nation have gotten caught up in trying to find some new revelation from the Bible and destroyed themselves. People need a well rounded diet to be well rounded people. We need to stick to what the Bible says. The Bible says we are supposed to pray. The Bible says we are supposed to live a clean life... The Bible says we are supposed to read the Bible. The Bible says we are supposed to go soul winning... The Bible says we are supposed to walk with God... Often that does that not satisfy us because we have gone down one road. That one road excites us until every time we meet we have to exceed where we went the last time.
In life it will not work, and in a church it will not work. It creates a church that only knows one thing and gives us only one phase of the ministry we are supposed to have to God. The Bible talks about ministering unto God. That is our purpose. God wants us to shout and praise Him... God wants us to spend some time quietly with Him and express to Him our love... God wants us to go out and tell people about Him and get them saved... God wants us to learn about Him from His Book... That is what makes a great Christian, and that is what makes a great church.
TABLE OF CONTENTS | PREVIOUS | NEXT

---
Ye Must Be Born Again!
|
You Need HIS Righteousness!
|
Believe The Gospel